A Quick Guide: Things to do in Hachinohe☆
Hi! I'm Angelica, Hachinohe's Coordinator for International Relations.
With spring finally here and Golden Week (a Japanese holiday) right around the corner, there will surely be quite an influx of tourists coming to Hachinohe during this season! Since there are definitely more details about each attraction elsewhere on the internet, I figured I should compile a quick guide of links on things to do in the area, to help you start researching. Please keep in mind that this is by no means an official guide,it'a only my personal favorites, so make sure to: check other websites to confirm relevant information, try to ask a Japanese person to help call in and ask for availabilities and opening hours, be flexible if a store is unexpectedly closed or is unable to accommodate your requests, etc.! Thank you, and we are so excited to have you in Hachinohe!
There are so many hidden treasures to explore, so let's get started!
(Please click on each location title for the website links)
ATTRACTIONS
Within the City Center
Hachinohe Portal Museum Hacchi
This 5 story public museum hosts a museum shop, various restaurants and cafes, boutique stores, free permanent and (usually free) temporary exhibitions, a kids' play park and regular events. A wonderful place for the family to spend a couple hours wandering around! Floors 1 through 4 have exhibits that showcase Hachinohe's local history and culture. Although the descriptions are mostly in Japanese, English speaking volunteer tour guides will be happy to help out! Otherwise, there are a lot of interactive exhibits and play areas to check out, even if you are unable to read the descriptions. I highly recommend checking out the museum store (1F) for products and items that are the regional specialties! For food, I recommend Kitchen Murata (2F) for affordable, casual, and delicious Japanese style lunches, or Sukegawa (1F) for a slightly fancier French style meal. Outside food and drink is not allowed, but feel free to purchase items from the museum vendors, and grab a seat anywhere in the museum! Please make sure to clean up after yourselves.
Literally translated as "city park", this city central indoor park is a great place to take a seat, admire the wooden and glass architecture, play in the forest shaped water fountain, and soak in the sun. Machinwa is open from 7 am- 11pm, and equipped with top-notch free Wi-Fi. Grab some food or drinks from the nearby convenience store and come here to take a break!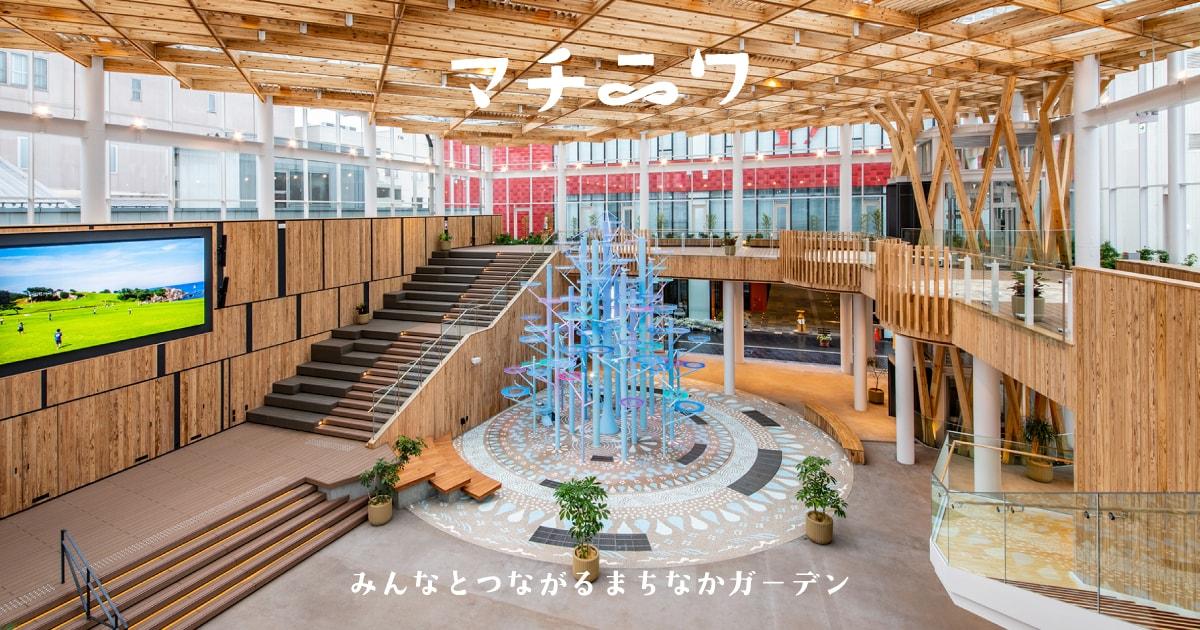 A mixture between a public cooperative and a private bookstore, Hachinohe Book Center is the first of its kind in all of Japan. There are a bunch of books (mostly Japanese, but some children's books in English!), and a lot of pictures to look at. Unfortunately, we are just going to have to run with the theme of "at least there are a lot of things to look at, even if you can't read Japanese". The book center hosts temporary exhibits and book talks, but my favorite part is the café serving coffee and wine for you to enjoy while you read! Make sure to check out the hammocks too.
Hachinohe Shurui Brewery Store
One of the two famous Japanese Sake companies in Hachinohe, Shurui Brewery boasts a city central location. I've been once before for a tour and a taste test, and I had a lot of fun! I'm going to be honest and say that I don't know much about Japanese Sake, but I'm sure that the folks over at VISIT HACHINOHE would be able to provide much more sophisticated information (here is a link to their Facebook page, they have English speaking staff so feel free to contact them!).
Miscellaneous
Literally a wonderland for fish market lovers and food lovers. I always recommend this place to people visiting. There's an indoor fish market, and in the adjacent building, there are rows and rows of shops selling various foods such as sushi, sashimi, green tea soft serve ice cream, taiyaki (fish shaped pancake desserts), ramen noodles, soups, chicken skewers, Japanese Sake and so much more. Also I recently discovered the joys of the BBQ Village, where you can purchase fresh seafood from the market, and bring it over to the restaurant to grill it yourself! Add that to your must-do list.
Port Area
Hachinohe is nationally famous for seafood, especially Japanese Mackerel and squid. Don't miss out on this integral part of Hachinohe's local culture; make sure you head out to the port area!
One of the other famous Japanese Sake companies in Hachinohe, Shuzo Brewery also offers a tour and a taste test! In my experience, you can drop in anytime and most of the tour guides are able to speak English to some degree. Again, I don't know much about Japanese Sake, but definitely check this one out because it's a fun time.
Free observation tower where you can get a 360 view of Hachinohe from the port area. This is a neat place because you can get a bird's eye view of all the industries and factories that keep the port running.
Held only on Sunday mornings, this is Japan's biggest outdoor morning market! It starts bright and early, but I love going through and looking at all the food stalls, vegetables, and fresh seafood. Make sure to eat regional specialty foods, such as Senbei Jiru (soup) and horse meat soup!. They also have really good Korean and Chinese food stalls, so there's a huge variety of things to try. Other than the feeling of the early morning bustle, drinking coffee and listening to the live music, my favorite part is getting up close to the fishing vessels anchored right along the port and watching the sun slowly rise. Truly a unique experience! Please note, this market is only held on Sunday mornings!
Hachinohe Seafood and Vegetable Retail Market 
(scroll down to the middle of the linked page)
This one is also for my early birds out there. If you love seafood and you can't make it to the Tatehana Morning Market, the Seafood and Vegetable Retail Market is a smaller, but still great alternative. Open every day of the week except for Sundays, this is where you can buy freshly grilled seafood and lots of fresh raw seafood, a bowl of rice, a bowl of miso soup, and slowly enjoy your meal. Breakfast couldn't get any better.
Coastal Area
The largest breeding ground for Umineko, or black tailed gulls, in all of Japan. There's a shrine and a really neat information center. Apparently more than 4,000 gulls come to this island every year, and it's an absolutely fascinating place to observe them up close. Highly recommend it, even if you're slightly terrified of birds (like me). Make sure to bring an umbrella if you don't want to get pooped on.
Tanesashi Coast Information Center
The Hachinohe area used to be famous for breeding horses, and while that has changed over the years, remnants of this important piece culture and history are still visible. The Tanesashi Coast Information is right next to the Tanesashi Natural Grasslands, where horses once grazed. It offers a stunning panoramic view of the coastline. There's also a café here, where you can grab a quick bite to eat.
The observatory was once used to monitor foreign ships, and as a military facility during World War II, but now it's another great location to admire the coastline. I especially like the café there, where you can buy Japanese curry, fried chicken and French fries, as well as one of the best soft serve ice creams in Aomori Prefecture.
A trekking trail that runs along the Tanesashi coastline and actually extends down into Fukushima Prefecture. You'll see lots of wildflowers and a variety of terrains, all with the ocean in the backdrop. You can start and end your trek at different points along the coast, so you can decide how far you want to go and then take the bus loop back to your destination. I recommend doing this if it's not too windy.
Public Parks (especially during the sakura cherry blossom season)
Hachinohe Park (Kodomo no Kuni)
I recently went there and I had a blast. There's a monkey zoo, a petting zoo, and a lot of family friendly amusement park rides that reminded me of those old carnivals or state fairs that I used to go to as a kid back in the United States. This is just around the sakura cherry blossom season as well, so there are rows and rows of sakura trees to enjoy at this park. Great to spend a lazy afternoon strolling and looking around.
Miyagi Park *located near the city center
This is another great park, right next to the city hall and just a stone's throw away from the city center. The sakura trees are also in full bloom here, and it's a quaint place to just sit, relax, and admire a modest skyline view of a portion of Hachinohe.
FOOD
Now, finally onto the food. While you're in Hachinohe, you should definitely try seafood and Japanese food, of course! But fear not, if you're not a fan of seafood, there are still plenty of other options within the realm of Japanese cuisine and the variety of international foods that Hachinohe has to offer. Please note, there are so many restaurants in Hachinohe, but this is just a quick list of my personal favorites that I wanted to share with you! Feel free to explore other places not listed here; you never know what you'll find.
Japanese Style Restaurants:
I'm going to admit that I don't usually look for Japanese restaurants when I eat out, so I might not know a lot of the local favorites. But these are just a few that I have tried and found affordable and delicious!
"International" Restaurants: 
NIGHTLIFE
Miroku Yokocho & Other Yokochos
Hachinohe has a bunch of alleyways full of bars. If you're looking to try some Japanese Sake and beers and eat some really good classic Japanese bar food, I recommend checking these areas out! Miroku Yokocho is a personal favorite, because the restaurants are run out of little stalls along an alleyway and it feels like a little cozy, hidden area. Each stall usually only sits around 7 to 8 people, so this might not be ideal for big groups. It may seem really intimidating at first, but the hosts are really kind and welcoming. Just pop into your store of choice, sit down, and enjoy! I don't have any specific recommendations, because I'm pretty sure whichever place you choose will end up being a great time. Also, there are quite a few other little alleyways, or yokocho in Japanese, of bars and restaurants, so take do some exploring and take a walk around!
TRANSPORTATION
While having a car would be the most convenient way to get around, all the suggested places are accessible by bus or train. Google is a pretty reliable resource for checking bus and train routes, times, and so on. Also, time tables are usually listed in front of the stations and stops. Please see living guide on how to use the bus system.
Other resources:
VISIT HACHINOHE – they have English speaking staff there, and a great Facebook Page (link) that introduces local Hachinohe events and special products, as well as culture. Check them out, give them a like, and ask questions if you have any!
Hachinohe Tourism Information Website – the official website for tourism in Hachinohe. They have a lot of info here!
That's the end of this guide! It ended up being a lot longer than I expected, but I hope it's helpful to you in some way.
Welcome to Hachinohe, and enjoy!
Note: all photos (except for the ones I captured) were taken from the Official Hachinohe Tourism website.
********************************************************************
Please follow us (Hachinohe International Relations Group @hachinoheworld) on Instagram for more updates on Hachinohe and Japanese culture!
Instagram page → "Hachinoheworld"